Hockey Related Reviews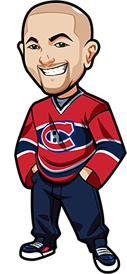 Welcome to the reviews section of BetNHL.ca.
This section is NOT reviews of online sportsbooks. If you're looking for online sportsbook reviews from an NHL perspective, check out our sportsbook reviews section.
In that section we go through all of the online sportsbooks we personally bet at and provide a review from a hockey perspective.
This section is reserved for reviews of other things related to yockey.
We'll review books on hockey, hockey video games, maybe even hockey movies.
We don't do much with this to be honest – it's more just some filler content during the Summer.
Hockey Book Reviews:
Don't Call Me A Goon: Written by Greg Oliver and Richard Kamchen, Don't Call Me A Goon is a great book covering some of the best fighters to ever lace their skates.
Welcome to Maple Leaf Gardens: An awesome book for any Leafs fan(and really any historical hockey fan) covering Maple Leaf Gardens. Some amazing pictures within the book.
Multiple Book Reviews: Sometimes we cram a few book reviews into one article. So you can read book reviews of Tales of a First Round Nothing, Heart of The Blackhawks and The Third Best Hull as well as Winning, Nothing Else, Anchorboy, Fighting Back. Anchorboy is quite the hilarious book.
Hockey Video Game Reviews:
NHL 15: This is a review of NHL 15 for the XBox One.
NHL 14: A review of NHL 14 for the XBox 360.
[social]
BetNHL.ca »