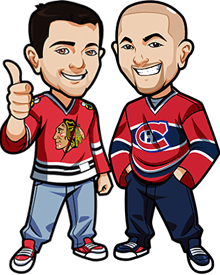 Written by Graeme & Scott on Monday, January 14th, 2013
There are a lot of great online sportsbooks where you can bet the NHL. Of course the best sportsbook to bet NHL is all relative – what's the "best" for someone may not be the "best" for someone else.
I could recommend Sportsbook A, but if they have betting limits of $500 and you're a high roller betting $1000 or more – well that wouldn't work for you, would it? And what if I recommend Sportsbook B – but they don't have a mobile app or website, and mobile NHL betting is integral for you?
What I have did below is break the online sportsbooks up. I've listed the best overall sportsbook, and then I've listed the best bookie to bet NHL depending on your situation.
Best Overall Sportsbook to Bet NHL:
The best online sportsbook to bet hockey is Bet365.
Bet365 cover practically everything when it comes to betting. Here's just a few highlights of Bet365's NHL Betting Options:
Signup bonus of $200
Great Mobile App & Website
Works on Tablets like iPad too
Free $100 for new Mobile Users
Parlay/Accumulator Bonus
Live Streaming Hockey
Live Betting Hockey
Huge Variety of Betting Options
It never fails to surprise me just how good Bet365 are when it comes to North American sports, considering they are a UK bookie. Probably the most trustworthy sportsbook online, they also offer great odds, accommodate low deposit players as well as high deposit players, gives great rewards whether you are a casual punter or a serious better, and really just cover everything.
Without a doubt, the best all-round online sportsbook to bet hockey is bet365.com.
The Other Best Overall Sportsbook to bet NHL:
Is Bodog.
Bodog have their very own Canadian website. They're lacking in mobile options, however they offer a great signup bonus and run promotions exclusively for Canadians. At a place like Bet365 you won't really see any hockey promos – but at Bodog Canada you'll see a lot.
It's a great idea just to register there – once they run various promos they will e-mail you with the promos – like reduced lines or free bets on specific hockey games.
They're also probably the best for NHL Props. A week before the NHL 2013 season, they offered a variety of great props such as who will win the Vezina Trophy or who would win the Richard trophy. You could also bet NHL team props such as whether the Anaheim Ducks will score over/under a certain amount of regular season points, or what teams will make the playoffs. Bodog Canada are great for that – they offer a fantastic variety that is unmatched for the betting NHL fan, so be sure to check Bodog out too. While Bet365 are a great book – I'd ALWAYS recommend having money at Bodog Canada too.
Betting Hockey on a Mobile Device:
The best online sportsbook to bet hockey on a cellphone is Bet365.
Whether you're using an iPhone, Android, Blackberry, Windows Phone or whatever it is to bet hockey, Bet365 has you covered. First of all, they offer a mobile website which will work on everything – any cellphone that can access the web, as well as any tablet for betting. The website is great – very easy to use, simplistic, and responds great for touch screens or keyboards.
They also offer a specific iPhone app, iPad app and Android app if you prefer using an app than using a mobile site. On top of that, Bet365 offer $100 in free mobile betting to encourage users to bet on their cellphone.
The other sportsbook you should try for mobile betting is JustBet. JustBet offer a $10 free mobile bet – so why wouldn't you take advantage of that? They offer a mobile site so you can try it out for free. Free money is free money!
Depositing With A Credit Card or Bank Account:
Whether you are looking to deposit with your Visa, Mastercard, TD Bank, Royal Bank account or whatever – you may run into problems. Some places may not allow you to deposit into certain gambling sites, and you can only bet into specific ones.
The best online sportsbook for depositing with Credit Card or bank account is without a doubt Bodog. They offer the best processors, and if you have any problems you can contact them – they have a customer service team set up specifically to assist Canadians in regard to depositing into their sportsbook.
Bodogs withdrawal procedures are top-notch and you can get paid very fast with them, which is the other reason they are the best sportsbook to deposit to with a Credit Card or Bank Account. Bank wires and cheques are sent to you promptly.
Best Sportsbook Bonus for Canadians:
The majority of online sportsbooks offer a bonus. However every bonus is different – some require a lot of betting to actually get the free cash.
Honestly I would recommend going through our sportsbook review section and hitting up every sportsbook with a bonus. But the best bonus in terms of free bets is Titan Bet. Titan Bet offer $50 in free bets and it is very simple to use – all the terms and conditions are laid out for you and they keep track of your wagering requirements.
Another great sportsbook for that is 888, who offer $150 in free bets. 888 Sports are a popular sportsbook in Canada due to them being the choice of UFCs GSP. $150 in free bets and live betting doesn't hurt.
Best Sportsbook for Live Betting Hockey:
If you want to bet Hockey live, or are looking for in-play hockey betting, then there are only a few sportsbooks that offer it. The interfaces are different on each one. The first one I would recommend is BetOnline – the reason is that they offer a free $25 bet to try out their live betting. So you can test out in-play betting and see what you think of it at their site, with no risk to you.
The other two options for live betting are 888 Sport and Bet365 – both of whom, you can also bet in-play on your mobile device. It's pretty great being AT a game and betting various props during the breaks.
If you want to read more about these online sportsbooks, you can of course check out our NHL Sportsbooks Review page where we provide an in-depth analysis of all of these sportsbooks, from a hockey fans perspective.
Best America Sportsbooks for NHL
BetNHL.ca » NHL Betting Guide » Best Sportsbooks for NHL Hockey Betting